Boards are an important part of project and product development. They reflect the tasks that teams must deploy to achieve product development. This allows the workload of each team member to be visualized.
The boards and tasks managed from DoneTonic allow teams to turn ideas into reality always with excellent resource management. DoneTonic boards, whether in SCRUM or Kanban projects, are visual and easy to use, allowing teams to continuously evolve.
-> Learn how to create SCRUM and Kanban boards with DoneTonic
Kanban Boards
Kanban boards are part of agile project management. Like SCRUM boards, they are visual tools that allow teams to have an overview of the current project status. They monitor the workflow and facilitate communication between team members.
In these boards the tasks are ordered vertically in lanes or statuses, by default there are 3, although the user can create his own statuses:
TO-DO: where the pending tasks to be performed are listed,
DOING: where the tasks that are being performed are shown and
DONE: where completed tasks are added. With DoneTonic's Kanban boards, tasks can be simply dragged from one lane or status to another.
Horizontally, DoneTonic Kanban boards can be organized by the following task-related characteristics:
Importance: you can define an importance to the task: High, Medium, Low and No importance.
Label: a way of grouping the tasks, it can be the theme of a specific task
Assignment: lit orders them according to the members assigned to them.
Due date: in Kanban boards, although tasks are performed over time, it is advisable to assign a due date to the task.
DoneTonic allows you to create and customize as many statuses or lanes as necessary to manage the project.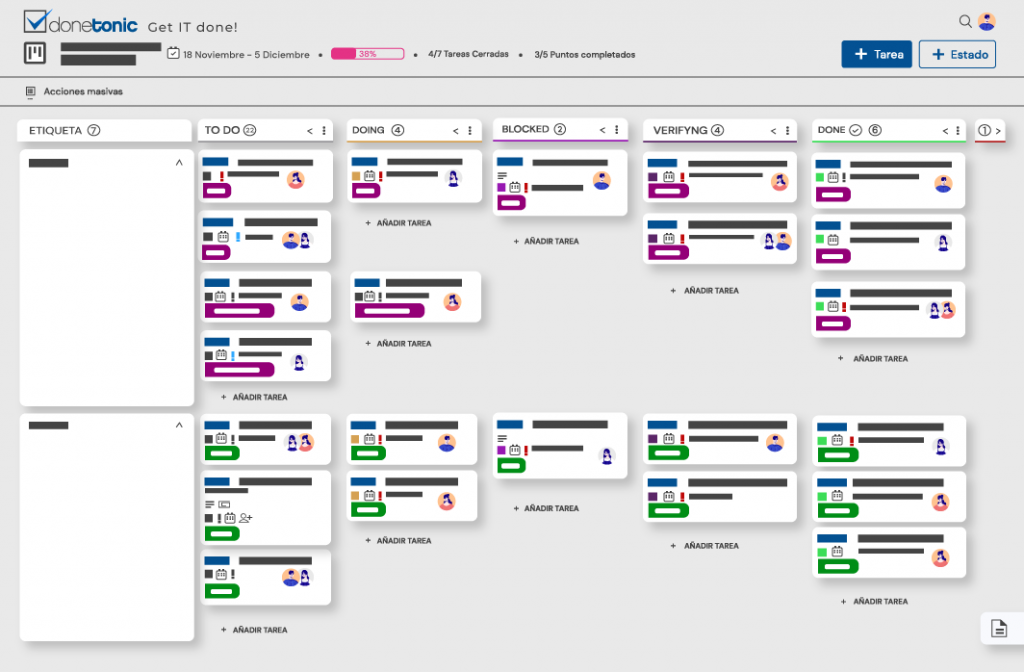 Should I create a Kanban board?
Kanban boards are used by teams working with continuous and constantly changing tasks. It is possible to define an end date for the tasks, but unlike sprints, they do not have a time limit. Neither do they have roles such as SCRUM Master or Product Owner, although they may have an Agile Coach.
These teams are not required to deliver incremental product value, they are more focused on tracking workflow.
SCRUM Boards
When we talk about product development, it is best to opt for the SCRUM methodology.
The first step is to have a backlog that includes the list of improvements to the final product. In this backlog, PBIs (Product Backlog Items) are created and the tasks to be developed for the success of the final product are added to them.
These PBIs are then transferred to a board where the sprint is visualized. A sprint is represented on a SCRUM board where the grouped tasks of each BIP are displayed. This allows a visual representation of the plan and is a simple way to organize and update the status of tasks and to quickly see the status of the entire team's work.
In conclusion, a SCRUM board is a tool for monitoring workflow and facilitating communication between team members.
DoneTonic SCRUM boards are online boards that allow team members to collaborate in real time, at any time and from anywhere; important aspects nowadays if the company wants to carry out an effective digital transformation. They also have all the features a team needs: easy administration of PBI tasks, one-click status changes and easy editing. In addition, it is possible to create new statuses and customize them, and they show the progress of the tasks on the board, i.e. in that sprint, at all times.
-> Create your Product Backlog with DoneTonic
Should I create a SCRUM board?
SCRUM boards have been used by teams implementing the SCRUM methodology to achieve an increase in their product: software development or product and engineering teams. Today, any team that wants to use continuous improvement can implement it and represent the evolution of the product on SCRUM boards.
-> Learn how to create a SCRUM workflow with DoneTonic.

Differences between the SCRUM board and the Kanban board
There are substantial differences between these two types of boards, which you should be aware of when you start creating a project:
SCRUM boards
Designed to show a set of tasks to be performed in a specific period of time, maximum 4 weeks
Designed for product development with incremental value
A sprint that includes the PBIs with the tasks defined in the sprint planning
No changes during the sprint
There are roles such as Scrum Master or Product Owner
Kanban boards
Show a continuous flow of work, no closed delivery periods
Work very well when managing projects
New tasks are added to the TO DO lane or a user-defined TO DO lane and progress along the board
Changes occur at any time
There are no roles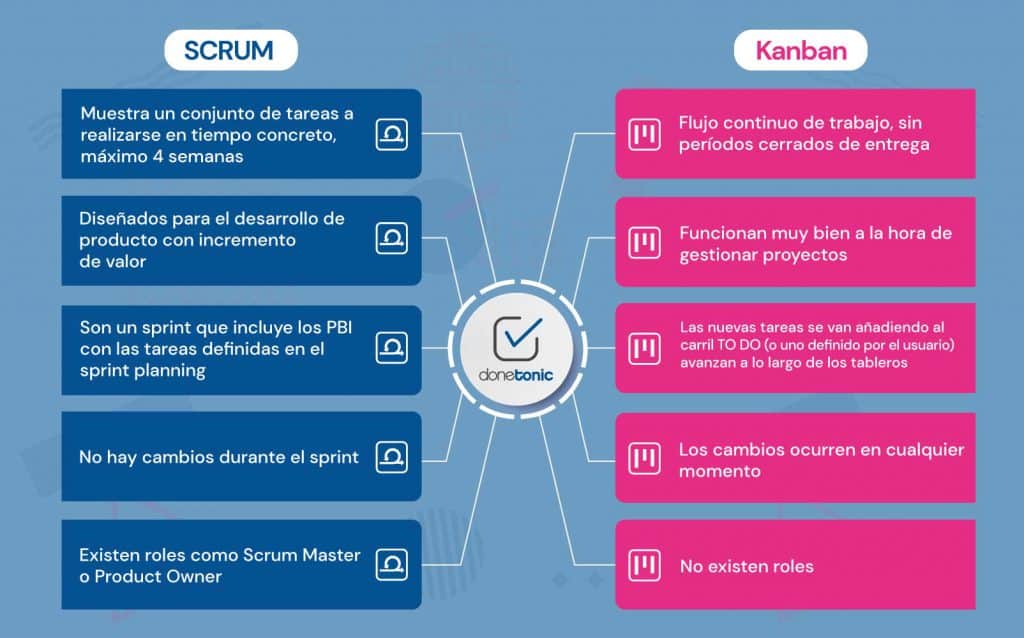 Conclusions
Kanban boards and scrum boards are two powerful agile methodologies that can help improve workflow and efficiency in a team. But when is the best time to use each?
In general, the Kanban methodology focuses on improving workflow, while the SCRUM methodology is based on improving efficiency.
Kanban can be a good option if the team needs to improve workflow, but is not sure how to do it.
SCRUM can be a good option if the team needs to improve efficiency and has a good workflow.